and can be found in the usual place.
Before I talk about the music, I should point out that once again we are fully booked up, with 15 people on the waiting list. If you've booked but now think there's even the slightest chance that you won't be able to make it, please cancel your booking ASAP; see here for how to do it.
Right, with that out of the way, I can unveil the poster for the event, which in turn should give you an idea of how the set-list has been put together: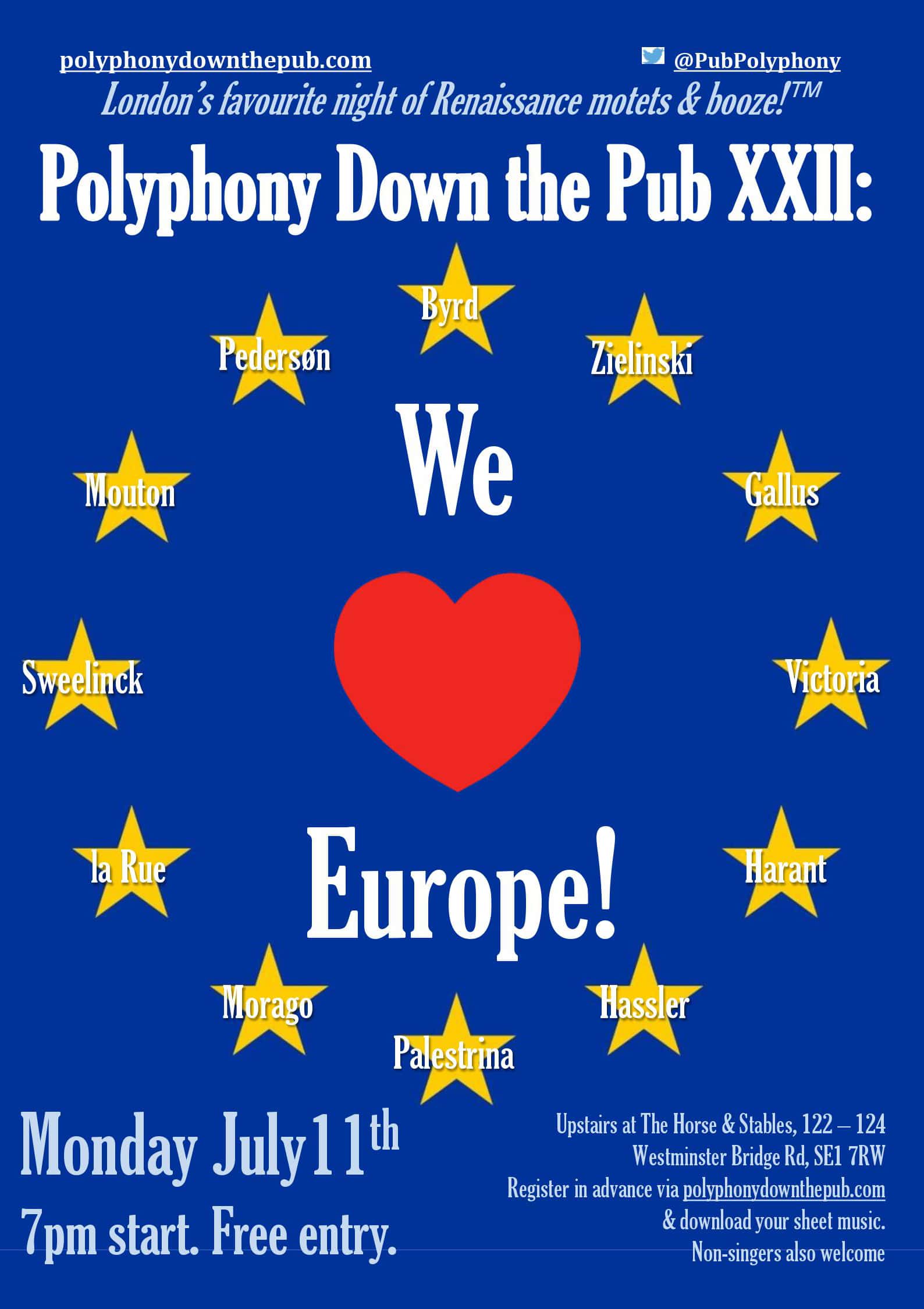 We couldn't possibly fit in works associated with all current 28 member states of the EU (and to be fair, there are some that appear to have an extremely limited selection of Renaissance composers!) but I hope that the works that I have chosen will make for an interesting evening of music.
In addition to the masterworks by the well known composers, I'm certainly looking forward to trying out the Zielinski (Poland) Vox in Rama for its Gesualdo-like chromaticism, the Morago (Portugal) De profundis for its crunchy diminished chords, the Pedersøn (Denmark) Kyrie for its unexpected rhythmic passages and the Harant (Czech Republic) Sanctus simply for that fact that it's eminently singable.*
I've also included a piece by Scottish composer Robert Johnson, just in case his nation ends up becoming the next member state. (Cheeky.)
One last point re: Monday – the lighting in the pub isn't the best so do bring a small torch if you struggle to read in low light.
Looking forward to seeing you there.
Cheers
Kevin
PS Still some spaces at tonight's Counterpint in the Cafe.
*(NB I suspect an error in the Harant score – the second alto part is written an octave too high and therefore would be better off sung by the tenors but will confirm Monday.)